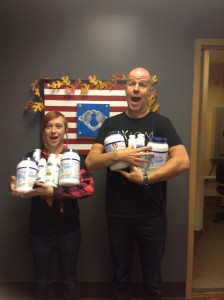 This is the time of year where I get the most questions on sleep:
What kind of pillow should I use?
Firm or soft mattress?
Should I take melatonin or something else to help me sleep?
How much sleep do I really need?
After overcoming sleep problems myself and helping hundreds of people sleep better through what I learned, I decided to put together a power packed workshop that gets results with insomnia.
It's called "The Sleep Wake Up Call" and I'll be doing it on Monday, December 4th at 6:30 at the office.  I've used these tips myself and can tell you that they WORK!  7 out of 10 of your friends, family an co-workers are reporting insomnia issues and many of them are are dangerous sleep drugs.  I've had a personal trauma in our family due to these drugs and I'll tell you more about it at the workshop.  Bottom line- these drugs are dangerous and people need help.
That's why I'll be giving away 2 of my favorite pillows at the workshop.  All you have to do to win is bring a friend or loved one to the talk and you'll get a raffle ticket, so keep your ears and eyes open or just sign up the person you know that needs help sleeping.  We'll also be giving sleep apnea and snoring solutions- ladies can I get an AMEN!
Call the office to reserve your spot and tell us who you will be bringing.  If we haven't seen you in the office for an adjustment for a while, we'd still LOVE to see you there!
One more thing:
RED FRIDAY!!!  Due to the overwhelming response we had last year, I'll be in the office from 10-11 am the day after Thanksgiving for "turkey hangover" adjustments AND the BIGGEST supplement sale of the year.  All supplements 20% off!  First 6 people in the door get a FREE Axiom shirt!