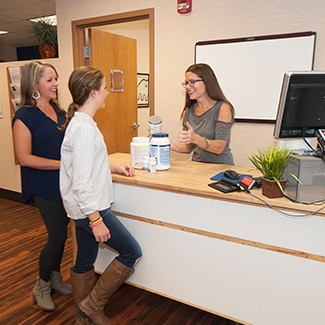 About Us
Dr. Eric Shuemake founded Axiom Health Solutions in 2001, after completing his education at Parker University. Over our years in practice, we've strived to empower people to make better choices about their health through chiropractic care, nutritional counseling and educational workshops.
"We want to empty out the hospitals in our community."
Why? We're thankful for emergency care that's there when we need it. But most of the people who are in the hospital are dealing with issues that may have been preventable – if only they'd had the information they needed to change their lives back when they had a chance to do so. From these missed opportunities, our mission was born: to help people transform their lifestyles so that they can control their health and have the freedom to live the way they want to.
Get Back in the Driver's Seat
Everyone in our area is welcome to experience our unique approach to health care. We want to provide family wellness care to all, and welcome children, adults, sports injuries, and personal injury and auto accident cases. We've been fortunate to see people reduce or eliminate their need for medications, lose weight and live without the fear of their health being damaged.
If you'd like to feel empowered to take control of your health, we'd love to help you. Contact our Centennial chiropractic care center today to get started!
CONTACT US »

About Axiom Health Solutions | (303) 617-0777