New Patient Center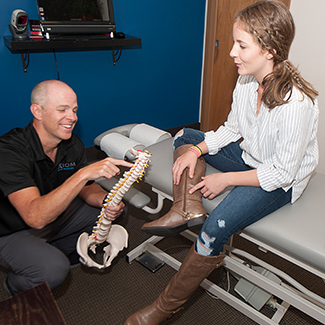 Welcome to Axiom Health Solutions! You'll find that our practice is an upbeat, energetic place with a friendly, encouraging team who is ready to support you. We look forward to meeting you and your family.
Our Approach to Patient Care
When you arrive, you'll be taken on an office tour, then meet your chiropractor to talk about your history and what's brought you to our office. We'll perform any necessary testing including X-rays, which are available on-site. Your chiropractor will detail their findings to you and ensure that we're a good fit to achieve your goals.
From this point, your care will be completely individualized to your needs. The initial visit will take 30-45 minutes, and at that time, you'll find out what you can expect in the future. Re-examinations are held on a regular basis to check your progress, which include the retaking of X-rays so that you can see the changes we're making.
Get Started
Schedule your appointment today and complete your forms in advance! Convenient early appointment hours are available at our Centennial practice.

New Patient Center | (303) 617-0777